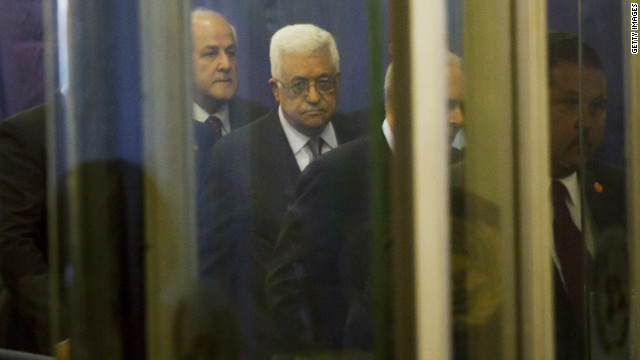 Hello from the newsroom,
Today we will be bringing you the latest from the UNGA. The big headliners du jour: Palestinian Authority president Mahmoud Abbas and Israeli Prime Minister Benjamin Netanyahu.
Abbas is expected to reiterate the Palestinian's request for the United Nations to upgrade their status to a "non-member observer state". Netanyahu (who we learned today will speak with US President Barack Obama in the telephone) is expected to again draw what he has called a "red line" over Iran's nuclear program.
Today, as we do every Thursday, we will take an in-depth look at the Syrian conflict. By any standard, even for those who've gotten used to daily triple digit death tolls, what happened yesterday in Syria was shocking: almost 350 people were reportedly killed in a single day. A death toll inflated by reports of yet another massacre of civilians in a village near Damascus.
We are expecting to speak to Lakhdar Brahimi's spokesperson Ahmad Fawzi from the United Nations. I will ask him to expand on what the joint UN/Arab League envoy told reporters after a closed door Security Council session earlier this week. Brahimi has said he doesn't yet have a final plan to solve the crisis. He also said that without a unified Security Council, his mandate is essentially meaningless. Should Syrians expect anything from Brahimi after his predecessor Kofi Annan's plan failed so resoundingly?
Also today, we will take you live to Madrid where Spain's government just announced a drastically slimmed down budget for 2013. There've been massive anti-austerity demonstrations in that country, as well as in Greece. Both countries need to make some very painful budget cuts in order to tackle a debt crisis that is threatening their economies and their membership in the Eurozone. Full coverage plus all the market reaction to the announcement.
We'll have that and all the day's other top stories, as always.
Hope you can join us!
Hala
Posted by: Hala Gorani
Filed under: Debt Crisis •Israel •Palestine •Syria •UNGA
I spoke earlier to Israeli government spokesman Mark Regev to get the official Israeli response to criticism that Palestinian detainee Khader Adnan has been held in prison without charge for the last two months.
Adnan has been on a hunger strike since mid-December to protest the conditions of his detention and the fact that no formal charges have been brought against him in his case. He is said to be close to death as he awaits an Israeli Supreme Court hearing on Tuesday to determine whether he should be released.
This story has generated a lot of interest from people who say the Israeli government is using a controversial practice called "administrative detention" to keep inmates suspected of terrorist activities locked up indefinitely without charge, in violation of their right to a fair and speedy trial. Israel says sharing evidence in such cases would endanger public safety and its network of informants.
Take a look:
Filed under: Israel •Khader Adnan
I speak with Karim Sadjadpour of the Carnegie Endowment for International Peace on reports Israel may be thinking of striking Iranian nuclear sites this spring. Fascinating analysis:
Filed under: Iran •Israel •Nuclear