October 9, 2012
Posted: 1750 GMT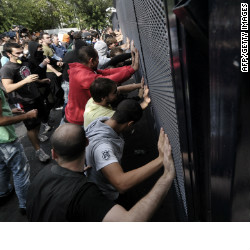 Hello everyone,
Today we kick off the show with more mass demonstrations in Greece on the day German chancellor Angela Merkel made a rare visit to Greece. The visit was designed to discuss Greece's bailout plan and the austerity measures that have angered so many Greeks. Matthew Chance is live with us from the Greek capital.
Also topping the show today, the massive suicide blasts that reportedly targeted the Air Force Intelligence compound in Damascus. Experts say the AFI is considered the elite, primary intelligence agency of the Assad regime. A shadowy jihadist group called Al Nusra Front has claimed responsibility for the attack.
It is unknown how many people may have been killed or whether anti-regime detainees in the complex were hurt.
"We also fear for the lives of hundreds if not thousands of anti-government detainees that are being held in the basements of the air force security compound," said Rami Abdulrahman of the opposition Syrian Observatory for Human Rights.
If this Jihadi group was able to mount a successful attack against AFI, it could be significant for two reasons: first, it means the Jihadi suicide bomb tactics used in Iraq are now becoming a more prominent weapon used by some members of the anti-Assad rebellion; second, it could constitute more than a symbolic blow to the Syrian government by damaging or destroying surveillance equipment.
A little later, we'll take you live to Bellefonte, Pennsylvania, where former PennState football coach Jerry Sandusky was sentenced to at least 30 years in prison for sexually abusing children during his time at the university.
Plus, there's a new poll out that is no doubt given Mitt Romney's campaign a little spring in their step. Check out the latest Pew poll:
Oct. 4-7
Likely voters choice for president
Sept 12-16    Oct.4-7
Obama 51%   45%
Romney 43%  49%
Sampling error +/-3.4% pts.
We'll break down these new numbers with Paul Steinhauser.
Finally, Felix Baumgartner, the Austrian skydiver whose attempt to become the first human being to break the sound barrier is scheduled to take place during the show. We'll go live to New Mexico where Brian Todd is covering the daredevil's jump from outer space.
See you on air,
Hala
Posted by: Hala Gorani
Filed under: Barack Obama •Felix Baumgartner •Greece •Mitt Romney •Syria •Today At The I-Desk
April 27, 2010
Posted: 1631 GMT
We'd been leading with the Goldman Sachs hearings on Capitol Hill all morning when an urgent wire crossed: Greece's sovereign debt has been downgraded to "junk" status by ratings agency Standards and Poors.
This means the ratings agency thinks Greece's debt is riskier than in its previous assessments. Investors are now being told that chances of them not getting their money back from Greece are higher. This will push up interest rates and prolong the debt crisis in Europe.
It also means other countries in the Eurozone might have to come up with a more ambitious plan to save Greece from drowning in debt it can't repay.
Stock markets across the continent are down. The anxiety over Greece's debt (and a downgrade for Portugal) has spread to Wall Street. We will go live to New York where Stephanie Elam will break the story down for us.
Stephanie will also join us to cover the Goldman Sachs hearings in Washginton DC. Top executives of the venerable financial insitution are today being grilled on accusations that they knowingly misled investors with deals tied to the subprime mortgage market they knew would lose money.
Join us for that and the rest of the day's top stories from Moscow, Paris, Baghdad and Yemen.
See you at the IDesk!
Hala
Posted by: CNN Anchor, Hala Gorani
Filed under: Greece •Today At The I-Desk
March 9, 2010
Posted: 1746 GMT
Hello from the newsroom everyone,
The Greek Prime Minister is in Washington, D.C., the latest stop on the George Papandreou 2010 World Tour, designed to ask for a few favors to help his country out of crushing debt.
There is a very interesting piece in the Washington Post today that puts Greece's – and America's – debt problems in perspective. Dana Milbank writes that the U.S. could be in aa tight a spot as Greece in about a decade.
Greek national debt is about 113% of GDP, way more than is healthy and certainly much higher than what Eurozone rules allow for.
In his piece, Milbank notes: "If current trends persist, an American president will be doing the same thing in about 10 years. He or she will probably be in Beijing, asking for more favorable interest rates or pleading with the Chinese government to keep speculators from betting on an American default."
We will be going live to the White House to ask whether Greece will get what it wants from America, but also, why it would be in the U.S.'s best interest to give Athens a hand on this one.
Speaking of high-level meetings, the U.S. Vice President is in the Middle East this week for talks with Israeli and Palestinian leaders. Joe Biden is the most senior member of the Obama administration to visit the region since the U.S. President took office.
Earlier in the day, Joe Biden was expressing satisfaction that Israelis and Palestinians had agreed to indirect peace talks. But then, right before dinner, Israel said it would authorize the building of 1,600 homes for Jews in Arab East Jerusalem. Now Palestinians are saying this mean no talks are possible.
Expectations regarding peace talks for Biden's trip were extremely low to begin with. We will have the latest from Jerusalem.
Also today, we will have the latest on election result delays in Iraq, the Robert Gates tour of Afghanistan and religious and sectarian violence in Nigeria.
Plus, as always, your complete sports and weather updates.
See you at the IDesk!
Hala
Posted by: CNN Anchor, Hala Gorani
Filed under: Greece •Israel-West Bank •Today At The I-Desk