October 22, 2012
Posted: 2158 GMT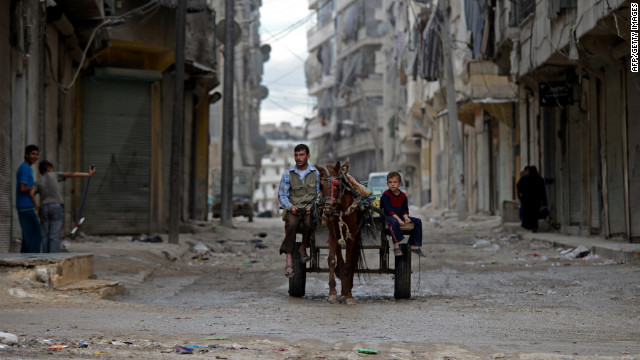 A very interesting article by Le Figaro's Edith Bouvier on France's direct financial support for Syrian civil reconstruction and humanitarian projects. The idea is to give money to civilian groups to help rebuild bakeries, set up medical or collect trash even as the civil war rages on.
According to this article, France has so far sent 1.5 million Euros to fourteen "civilian revolutionary committees" from Aleppo, Damascus, Homs and other hard-hit regions.
This is also interesting because according to this report, France's ambassador to Syria, Eric Chevallier, travels to within "a few hundred meters of Syria to meet with the representatives of these committees and to give them French help."
During these meetings, the report goes on to say, the men talk about the unrelenting violence in Syria but also come equipped with reports and a "spreadsheet explaining every expense. For each financial donation, a promise is made to provide a detailed expense reports."
Posted by: Hala Gorani
Filed under: France •Syria
June 21, 2010
Posted: 1249 GMT
It's been a weekend of problems for the French national team in South Africa. Because of that, we wanted to know:

Filed under: France •World Cup
February 10, 2010
Posted: 1521 GMT
It was snowing very hard in Paris this morning. At least by Paris standards. The big, fat flakes came down in sheets and, in some places, stuck to the ground.
It didn't last long, and the snow quickly turned to slush. Compact, grey clouds hung over the city as I jumped from one cab to another on my way to radio and TV interviews with French journalists. I was invited to talk about CNN's iList coverage this week.
We chatted about France's image abroad and the stories we'd prepared for our special series. I was also asked about the time I recently spent in Haiti's earthquake zone. Every time I talked about Haiti, and despite the fact that I was in my favorite city anchoring a fascinating series of shows, a part of me wished I was back there.
There is something very odd – almost discombobulated – about being surrounded by standing homes, plentiful food and all around privileged people when the memory of the devastation in Port-au-Prince is still so fresh in my mind.
I left Haiti with a heavy heart, still filled with the desire to tell the story of what happened there. There is almost a measure of guilt associated with leaving – of being able to leave – when so many there are faced with unquantifiable pain. I now know I want to go back as soon as I'm able, to continue to report on the aftermath of the disaster.
This story will continue to unfold for months and years to come.
Before I left the hotel CNN used as a base of operations in Port-au-Prince, I said goodbye to all the employees on my way out, many of whom had lost homes and family members in the earthquake. Outside, I knew that on the way to the airport there would be mountains of rubble and debris and the souls of tens of thousands of missing victims sill buried under the ruins of the city.
A hotel employee at the door got up and shook my hand: "Thanks for coming," he said.
It was the least I could do. And it wasn't enough.
Posted by: CNN Anchor, Hala Gorani
Filed under: France •Haiti •Today At The I-Desk
September 15, 2009
Posted: 1731 GMT
A few minutes before today's first edition of I-Desk, we got word of a bill approved by France's lower house of parliament. Normally, this wouldn't make news. But, this time, it caught our attention. And, here's why:
The bill aims at cracking down on illegal internet downloads. It's an issue that has plagued the "information superhighway" for several years. Countries all over the world have made attempts at stopping internet piracy... And, frankly, most have failed. But, in this law, France proposes suspending internet use for people caught performing illegal downloads. That's right, lawmakers want to cancel the internet for online criminals.
The law has already gone through legal wranglings, including a ruling from a constitutional court. And, it's expected to continue moving through the court system. Yet, some are commending France's aggressive moves to stop internet piracy - namely, recording artists, artists, and producers. But, is the proposal going too far? And, more importantly, can it even be enforced?
For now, the law remains in parliament. The next step is for a joint committee to take a look at it and vote. But, there's little doubt, that if it's approved, the law could have a significant impact on internet users everywhere.
Posted by: Javier de Diego, Senior Producer
Filed under: France •Internet