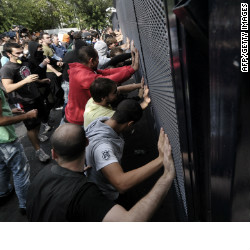 Hello everyone,
Today we kick off the show with more mass demonstrations in Greece on the day German chancellor Angela Merkel made a rare visit to Greece. The visit was designed to discuss Greece's bailout plan and the austerity measures that have angered so many Greeks. Matthew Chance is live with us from the Greek capital.
Also topping the show today, the massive suicide blasts that reportedly targeted the Air Force Intelligence compound in Damascus. Experts say the AFI is considered the elite, primary intelligence agency of the Assad regime. A shadowy jihadist group called Al Nusra Front has claimed responsibility for the attack.
It is unknown how many people may have been killed or whether anti-regime detainees in the complex were hurt.
"We also fear for the lives of hundreds if not thousands of anti-government detainees that are being held in the basements of the air force security compound," said Rami Abdulrahman of the opposition Syrian Observatory for Human Rights.
If this Jihadi group was able to mount a successful attack against AFI, it could be significant for two reasons: first, it means the Jihadi suicide bomb tactics used in Iraq are now becoming a more prominent weapon used by some members of the anti-Assad rebellion; second, it could constitute more than a symbolic blow to the Syrian government by damaging or destroying surveillance equipment.
A little later, we'll take you live to Bellefonte, Pennsylvania, where former PennState football coach Jerry Sandusky was sentenced to at least 30 years in prison for sexually abusing children during his time at the university.
Plus, there's a new poll out that is no doubt given Mitt Romney's campaign a little spring in their step. Check out the latest Pew poll:
Oct. 4-7
Likely voters choice for president
Sept 12-16    Oct.4-7
Obama 51%   45%
Romney 43%  49%
Sampling error +/-3.4% pts.
We'll break down these new numbers with Paul Steinhauser.
Finally, Felix Baumgartner, the Austrian skydiver whose attempt to become the first human being to break the sound barrier is scheduled to take place during the show. We'll go live to New Mexico where Brian Todd is covering the daredevil's jump from outer space.
See you on air,
Hala
Posted by: Hala Gorani
Filed under: Barack Obama •Felix Baumgartner •Greece •Mitt Romney •Syria •Today At The I-Desk