January 31, 2013
Posted: 2118 GMT
The CEO of Mandiant, the security firm The New York Times hired, came on the show along with the New York Times' Chief Information Officer to discuss the hacking and how it was discovered.
Filed under: China •CNN •Idesk
October 8, 2012
Posted: 1749 GMT
Hello everyone,
A shortened note today after a busy morning covering Mitt Romney's foreign policy speech in Virginia today. We'll be analyzing the address Romney hopes will bolster his foreign policy credentials and provide the basis for an attack against U.S. president Barack Obama. Wolf Blitzer will be joining us for analysis from Washington.
We'll also look at Hugo Chavez's narrow win in the Venezuelan presidential over the weekend. Paula Newton joins us from Caracas.
Plus, an American congressional report says some Chinese telecoms companies looking to expand their business in the United States can't be trusted and pose a security threat. Chinese firms ZTE and Huawei are disputing the findings. Jill Dougherty will have the latest from Washington.
See you on air!
Hala
Posted by: Hala Gorani
Filed under: China •Hugo Chavez •Mitt Romney •Today At The I-Desk
September 28, 2012
Posted: 1718 GMT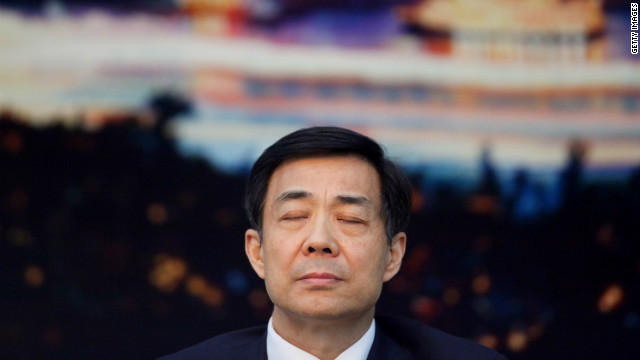 Hello everyone,
Today we'll bring you the latest from China on the dramatic fall from grace of former Communist party star Bo Xilai. We learned today he will be thrown out of the party and will face a variety of criminal charges. This come a little over a month before the once a decade Party Congress in China where a crucial leadership transition will take place.
Also today, don't miss our interview with George Lopez of Notre Dame University. He's a UN adviser and top sanctions expert. I'll ask him what he thinks can pressure the Assad regime in Syria to change course. Are sanctions the answer anymore? Did they ever work?
Richard Quest will join me to talk about an independent audit just released in Spain on the real cost of rescuing Spanish banks, crumbling under the weight of the debt crisis in the Eurozone. We'll also tell you how markets are reacting to the announcement on this last trading day of the week.
Also, you'll want to tune in for my interview with Egyptian-American activist Mona Eltahawy. She made a name for herself as a commentator on the Egyptian revolution in an outspoken style that has made her a familiar face on U.S. television over the last couple of years. But she was in the new for another reason this: she was arrested for spray painting an ad equating critics of Israel to "savages" in the New York subway, sparking debate about the best way to respond to racist attack ads.
Tune in for that and more at 1pm EST/7pm CET on CNN International.
See you on air!
Hala
Posted by: Hala Gorani
Filed under: China •Debt Crisis •Mona Eltahawy •Syria •Today At The I-Desk •UNGA
September 24, 2012
Posted: 1655 GMT
Hello from the newsroom everyone,
Today, we are leading with the massive brawl at the Foxconn factory in northern China. Foxconn is a factory used by Apple for many of its electronic devices and by all accounts, this was a huge fight: 2,000 workers were reportedly involved in a giant outburst of violence. It took 5,000 police officers 10 hours to bring the situation under control, according to the Xinhua news agency. As many of you know, Foxconn has been the object of criticism in the past, with reports of subpar working conditions. The company issued a statement relatively quickly, blaming the violence on a "personal dispute."  We have a report from China.
Also today, we will look at Syria and what is happening as I'm typing this at the United Nations in New York. The new UN/Arab League envoy Lakhdar Brahimi is briefing the Security Counsel in a closed door session. We will go over what was said with Richard Roth at the UN.
Later in the show, we will update you on the deadly avalanche in Nepal. We know five people were killed and another seven are still missing.
CNN's Arwa Damon has a report on the Libyan government's pledge to disband all non-state militia groups.
At the half hour, Wolf Blitzer joins us to discuss the latest in the U.S. presidential race. Republican presidential candidate Mitt Romney and President Barack Obama have been trading foreign policy barbs. Responding to Romney's accusations that he'd exhibited weakness in the foreign policy arena, Obama told an American television network: ""If Governor Romney is suggesting that we should start another war, he should say so."
Finally, as an animal lover, I was sad to hear that the giant panda baby born in Washington September 16th had died. We still don't know what happened, though it's not unusual for tiny panda newborns to struggle in their first few weeks. That said, there is good news in the panda world: the little panda born in July is doing great and can be seen at www.sandiegozoo.org/pandacam.
That and all your latest weather, sport and financial news as always.
See you on air!
Hala
Posted by: Hala Gorani
Filed under: Barack Obama •China •Syria •Today At The I-Desk
July 27, 2009
Posted: 1619 GMT
Greetings from the I-Desk...
First of all, Hala is off this week. And, for most of the week, BackStory's Michael Holmes will be fillling-in. He'll join us today, to bring you the latest news headlines and live reports feeding into CNN.
Alright, so here's what's on tap -
The U.S. and China are trying to continue warming-up relations, with a forum in Washington today. And, the U.S. brought out the big guns, with President Barack Obama, Secretary of State Hillary Clinton and Secretary of the Treasury Tim Geithner. So, what does this mean for the future of relations, between the world's largest communist country and the world's most prominent democracy?? Our Jill Dougherty is joining Michael live, to break it all down.
Also, on the diplomatic front, Britain's government today urged the Afghan government to reach out to the Taliban. Is this a good and viable idea? Or, is Gordon Brown's government trying to pander to those, who are increasingly becoming ANTI-Afghanistan? Our Senior International Correspondent, Nic Robertson, who's been to Afghanistan a number of times, is following that one from London.
And, keeping with the diplomatic theme, we're following developments in the Middle East, between Israel and Iran... And, in Honduras, between Roberto Micheletti's government and the ousted president, Jose Manuel Zelaya.
Then, on a lighter note... Why is Bill Gates quitting Facebook?? Let's just say - some of YOU may be to blame. It's a story you don't want to miss.
See you at the I-Desk!
J the P
Posted by: Javier de Diego, Senior Producer
Filed under: Afghanistan •China •CNN •Today At The I-Desk