We go in depth to show you the ancient treasures being destroyed by the ongoing fighting in Syria. Watch to see what has been destroyed and what is trying to be done about it.
Filed under: CNN •Idesk •Syria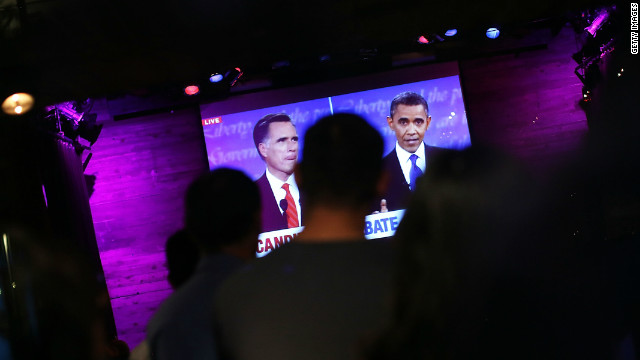 Hello everyone,
We kick off the show with the story everyone is talking about: the surprising presidential debate in the United States. The expectation was that incumbent Barack Obama would easily out-debate his rival Mitt Romney. Not only did that not happen, but most observers said a well rehearsed and more confident Mitt Romney walked away the decisive winner.
A CNN/ORC flash poll conducted after the debate gave Mitt Romney the advantage: 67% of respondents said they thought the Republican challenger won last night's debate. Only 25% said they thought Barack Obama did a better job.
And consider line from CNN's post debate analysis team:
"He didn't just score wins on the margins, holding his own against the president; he won big. Since the question of which candidate did better in a presidential debate was first asked by Gallup in 1984, no candidate has ever scored more than 60% on the question, until Wednesday night, when 67% of the voters in CNN's post-debate poll gave Romney the edge."
Now the question is: can Mitt Romney capitalize on this perceived win with crucial swing state voters? Does he have enough time to turn thing around in Ohio and Florida, where Barack Obama currently has an appreciable lead?
New, post-debate polling is expected in the next few days and will reveal the answer to those questions.
Join us for debate and analysis from our team of reporters and analysts.
Also today, we look at the deadly violence on the Turkey-Syria border. Shelling from Syria landed yesterday on a Turkish village, killing several civilians, including three children. Turkey's parliament moved quickly today to authorize the use of force in foreign countries as a response to the incident. Syria today apologized for the mortar attack. Will this escalate? We will go live to Turkey and Lebanon for the latest.
Plus, don't' miss my interview with UNESCO's Louise Haxthausen, the organization's senior coordinator for crisis. We will talk to her about the destruction of irreplaceable cultural treasure across the country, including Aleppo's covered market, where amateur video showed a fire raging last week.
Of course nothing is more painful than the loss of human life. Thing can be rebuilt. But some places, buildings and structures are what make a country what it is. It is the cultural soul of Syria that is being annihilated. In some ways, watching Syria's crusader castles, its Byzantine ruins, Aleppo's old homes damaged or destroyed feels like watching a person being slowly ravaged by disease. It is heartbreaking.
We will also talk about an important landmark for Facebook, as it reaches a billion users and bring you the latest financial, sports and weather news, as always.
See you on air!
Hala
Posted by: Hala Gorani
Filed under: Barack Obama •Mitt Romney •Syria
Presidential historian, Douglas Brinkley, came on the show to preview the first debate between Mitt Romney and President Obama. He says the candidates have to be gaffe-free in a challenge of "not messing up."
Filed under: CNN •Idesk •U.S. Elections
CNN and CNN International's coverage of the fall of Hosni Mubarak was recognized with an Emmy award in New York yesterday. International Desk was one of the key shows during the historic events that led to the ouster of the longtime Egyptian president. For several non-stop days, our show was in rolling breaking news coverage as protestors in their millions demanded Mubarak leave office. We are honored to be part of a network whose field journalism and on air production during those days was recognized with such a prestigious award.
Filed under: CNN •Egypt •Emmy Award